Bowerham Community Challenge
The children at Bowerham will be setting themselves, you as parents and members of our school community a very important termly challenge. For the challenge to succeed everyone will need to get involved!
Our first challenge is all about spending quality time with our children- connecting, talking, playing, having a healthy home and being part of a community are the top 5 things that ALL children need in order to thrive. See below for a short video that explains the reasons why it is so important to connect, talk and play with your child! Please note: this video is aimed at parents of children between the ages of 0-5 years, however we feel that it is still very relevant for all parents to listen to.
https://www.facebook.com/TED/videos/a-talk-that-all-parents-need-to-hear/506167110670065/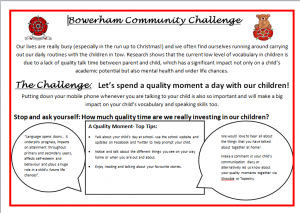 Please see below for some more top tips and ideas to use when talking to your child-
25 Ideas for Parents to Get Bowerham Talking
Small_Talk_FINAL- useful information for parents with children from birth to five years